Striking the right chords to resolve border row
By Swaran Singh | China Daily | Updated: 2020-09-10 07:03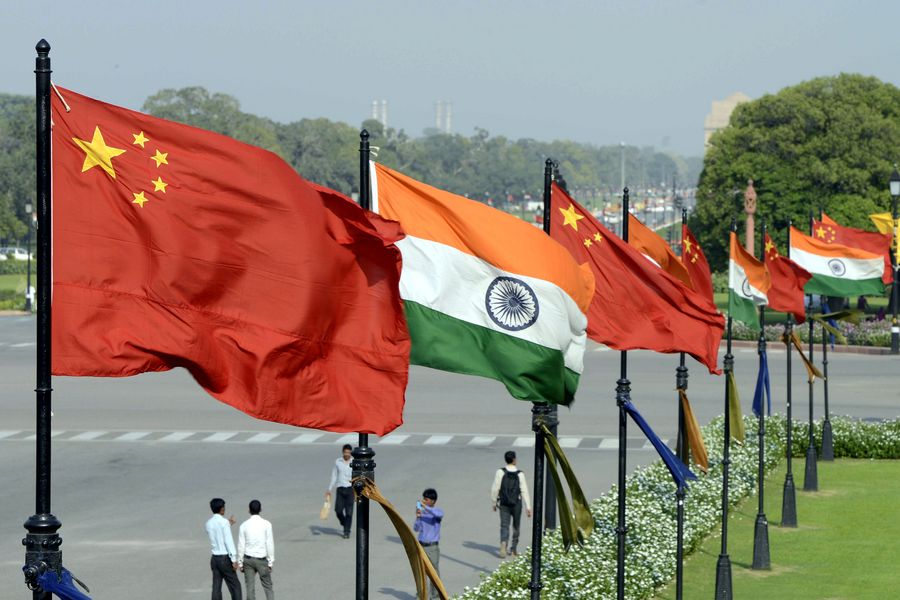 In the midst of continuing face-offs on the disputed border between India and China, people shouldn't miss the silver linings to the clouds. Last Friday, for example, saw unusually high-level interactions between the two countries' foreign and defense ministers, indicating their desire to strike conciliatory chords and commitment to resolving border disputes peacefully.
To begin with, the joint statement issued after the BRICS foreign ministers videoconference on Sept 4 concurred that "irrespective of their historic background and distinctive nature, conflicts should be resolved by peaceful means".
Then, at their first ever face-to-face meeting since border tensions rose in early May, the two countries' defense ministers-on the sidelines of the Shanghai Cooperation Organization defense ministers' meeting in Moscow on Friday-deliberated on the possible ways and means to achieve an expeditious disengagement of their forces, an issue that remains knotted in the differences in their perceptions about the Line of Actual Control (LAC).
Setting the stage for these interactions late last week-during the release of his just published book The India Way: Strategies for an Uncertain World-India's Foreign Minister Subrahmanyam Jaishankar had underlined the imperative to resolve the standoff within the "domain of diplomacy" requires both sides to "reach an accommodation" at the earliest.
China's State Councilor and Foreign Minister Wang Yi-who has talked on the phone with both Jaishankar and India's National Security Advisor Ajit Doval-has also been calling for negotiations to defuse the tensions.
Even during his recent tour of Europe, Wang reiterated how the "boundary between China and India has not yet been demarcated, so there will always be problems of this kind. We are ready to manage all kinds of issues through dialogue with the Indian side".
But on being asked at his book release as to what he would say to Wang at their first face-to-face dialogue since the standoffs when they meet at the SCO foreign ministers' meeting in Moscow on Thursday, the Indian foreign minister appeared to evade the question, saying "we have known each other for a long time, so you can have a reasonable guess". This seemed to reveal the wide gulf in their negotiating positions that remains to be bridged.
Indeed, both sides have repeatedly underlined variance in their perceptions about the LAC and that bilateral relations have never seen such heightened tensions since their 1962 border war. But such shared appreciation of ground realities perhaps promises to help their interlocutors address these formidable challenges.
Indeed, what challenges the efficacy of their extant mechanisms-in spite of the very frequent meetings between their brigade commanders at the LAC, their Working Mechanism on Consultation and Coordination on Border Affairs and other senior functionaries-is the novelty of these recent standoffs and this must not be underestimated.
First, their violent face-off in Galwan Valley on June 15, encounter on the southern bank of Pangong Lake on the night of Aug 29-30, and standoff on Monday occurred amid the ongoing disengagement talks with each side blaming the other for deviating from their shared understanding.
Second, all these incidents occurred at places not known for such encounters before, thereby creating new "gray areas" on the LAC.
Third, given their improved infrastructure and force projection capabilities, the heightened frequency and intensity of each of these face-offs has become all the more compounded.
And finally, the fact that these face-offs have occurred in the midst of India's continued fight against the COVID-19 pandemic has further ignited popular emotions in India prompting the Indian government to ban hundreds of Chinese mobile apps to propitiate this rising groundswell calling for "boycott China" and "standing up" to China.
But as yet all these remain largely symbolic. China not only remains the largest single source of India's imports but also one of the most influential investors in India's critical sectors such as power generation, telecommunications, and e-commerce including its unicorns. Such pragmatic Indian response fully appreciates this multifaceted reality involving components of cooperation and conflict.
Indeed, it is this holistic understanding in their mutual perceptions that may ensure stability and predictability in their relationship.
As for India, this pragmatism can be best seen in its response to continuous offers from the United States, especially for providing good offices.
India does not wish to be pushed by any external forces into making policy choices. That's why, while inching closer to the US, India remains aware of the fine distinctions between China's recent repartees to Australia, the United Kingdom and the US compared with its parleying tone when it comes to their spokespersons' comments on India or in the speeches of China's ambassador to India.
That both sides have so far ensured this autonomy of their interactions promises to help them explore the new equilibrium for not just overcoming the current tensions but to build a long-term complementary relationship as well.
The author is a professor and chair, Centre for International Politics, Organization and Disarmament, Jawaharlal Nehru University, New Delhi.
The views don't necessarily reflect those of China Daily.